No one stops the rain with a more complete line of designer umbrellas than Rainstoppers™. From our pocket-sized SuperMini to our mammoth 68" Golf Umbrella, Rainstoppers™ is the nation's leading brand for quality and price.

When it rains, it also blows. The Windbuster Golf model is manufactured to ultra-sturdy golf specifications with fiberglass shaft, ribs and tips for safety and strength. It includes gusset construction to protect against gusts.

We also offer complete merchandising support including metal display racks and custom logo silk-screening at competitive volume pricing.

If you don't see what you want ask us. We have many styles available.
UMBRELLAS | SPORT UMBRELLAS | CHILDRENS' UMBRELLAS
---
ITEM# 001 42" Deluxe Solid Colors
---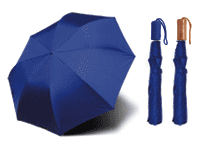 Auto Open • Compact • Closes to 15" • Clear PVC Case
COLORS: Assorted or Solid To The Case
Available with Rubber Handle or Wooden Handle
PACK: 6/60
Price: $3.70
---
ITEM# 002 42" Deluxe Two-Tone Colors
---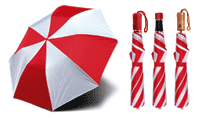 Auto Open • Compact • Closes to 15"
COLORS: Assorted; or Solid To The Case
Available with Rubber or Wooden Handle
PACK: 6/60
Price: $3.70
---
ITEM# 003RUB 42" Deluxe Black
---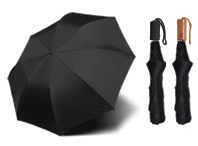 Auto Open • Compact • Closes to 15"
COLORS: Black
Available with Rubber Handle
PACK: 6/60
Price: $3.70
---
ITEM# 8W 38" Mens' Promotional
---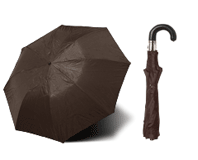 Auto Open • Compact • Closes to 14"
Hook Handle
COLORS: Black
PACK: 12/60
Price: $3.00
---
ITEM# 11B 42" Mini Solid
---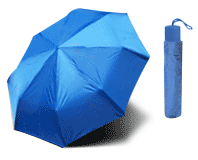 Ultra-Compact - closes to 10"
Lightweight • With Matching Sleeve
COLORS: Assorted or Solid Black or Navy to the Case
PACK: 6/60
Price: $5.10
---
ITEM# 020F 42" Manual Open w/Free Display
---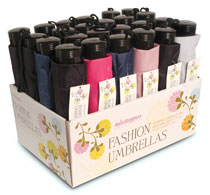 Manual Open • Matching Sleeve • Closes to 9.5"
COLORS: Assorted
PACK: 24/48
Price: $4.30
---
ITEM# 080FHC 42" Manual-Open Poly Bag Header
---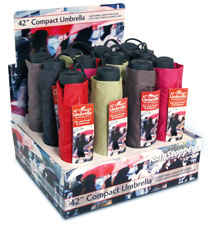 Manual Open • Matching Sleeve • Closes to 9.5"
COLORS: Assorted
PACK: 6/60
Price: $3.95
---
ITEM# 032 48" European Hook Handle
---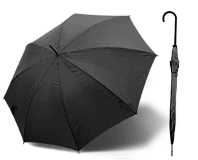 Slim Hook Handle • Auto Open • Classic Design • Closes to 35.5"
COLORS: Solid to the Case
PACK: 6/24
Price: $4.65
---
ITEM# 040 42" Mini Bright
---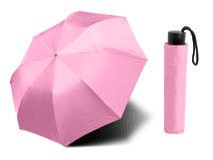 Lightweight • Closes to 10" • Black Plastic Handle • With Matching Sleeve COLORS: Assorted
PACK: 12/60
Price: $4.20
---
ITEM# # # 3419 46" Dome Auto w/window and Display
---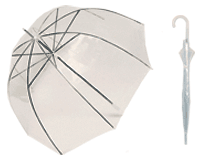 Manual Open • Durable Clear Plastic • Translucent Hook Handle
COLORS: Clear
PACK: 20
Price: $4.00